There's still time to sign-up for our in-person workshop at the ACE 2020 Annual Meeting. In this session, you will learn the best practices for starting a program, growing volumes in your program, and increasing service capacity for genetic specialists. We'll also cover the important financial considerations and getting buy-in from leadership.
Featured speaker Feyi Olopade Ayodele, CEO and Co-Founder of CancerIQ, will be leading the workshop. Feyi will also address a series of FAQs from our 2019 session as well as field new questions from our attendees. We hope to see you there!
If you would like to connect with Feyi and Kelly Hall after the presentation, you can access their calendars here. You can also setup a time in the coming weeks by filling out the form below and we'll setup a time that works best for you.
Featured Speaker: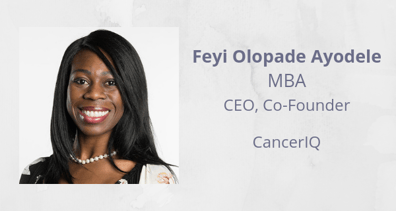 Feyi Olopade Ayodele is the Co-Founder and Chief Executive Officer at CancerIQ. The CancerIQ platform has been rapidly adopted by some of the top health systems across the country including Adventist Health, CHRISTUS Health, Sharp Healthcare, and many more. In 2019, Ayodele was named to Crain's Chicago Business 40 under 40 list for her work in expanding genetic services.
Ayodele is featured in publications such as Genome Web, The American Journal of Managed Care, MedCity News and has been invited to speak at multiple conferences including ACE, ACCC and Cleveland Clinic's Medical Innovation Summit. Prior to CancerIQ, Ayodele worked as a management consultant, investor, and investment banker at McKinsey, Actis LLP, and Credit Suisse. Ayodele received both her Bachelor's and MBA from The Wharton School.
Featured Guest: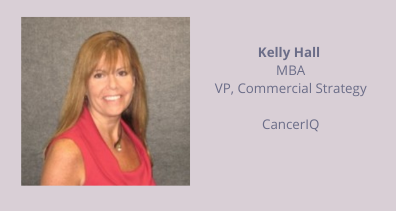 Kelly has over 20 years of oncology experience working with health systems as a vice president at Moffitt Cancer Center, Nevada Cancer Institute, and Memorial Healthcare System, as well as serving as the Vice President of Business Development at InformedDNA and as an independent consultant in the genetics space.